So Saturday started with trying to tidy the house. We'd put it off on Thursday and Friday due to being completely shattered and I was feeling abit of pressure as I am now back at work. Lunchtime came round and I'd asked what Vonnie wanted to eat at which point she asked if I fancied finding somewhere for lunch. Thinking she meant one of the local pubs I chanced my arm and seeing as we didnt manage to get a trip to get icecream last week I said we should go to Largs. About half way out of EK(1) Vonnie changed our destination to Ayr(2) as its easier to get to from EK and within about 40 minutes we were sitting in a wee cafe at the far end of Ayr beach having some grub. It wasn't the nicest day outside though despite the bright weather as a fair wind was blowing everyone about the place so Vonnie suggested finding the Electric Braes.
Ayr Beach from the safety of the car

Having lunch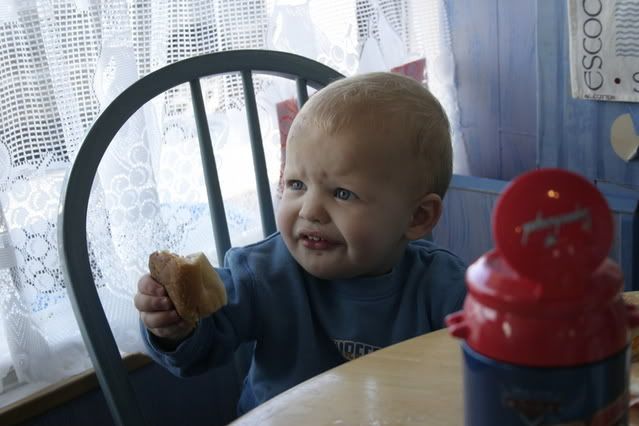 On the drive out of Ayr I passed comment that I'd always wanted to go back to Culzean Castle as when I last went with the school we never seen much other than the beach. Anyway we drove down to the stone sign for the Electric Braes and despite not actually noticing it my perception of what was a hill and what way it went flew right out the window for the next mile or so despite knowing we'd passed the place in question. Just shows you what the power of suggestion can do I suppose. So we drove passed there and then Vonnie started driving into Culzean Castle(3). Turns out it was going to cost us 16 quid to look around the gardens never mind the castle itself. Considering I thought we were just coming in there to turn around I wasnt quite as shocked as Vonnie at this. Then instead of heading back home Vonnie decided to head to Girvan(4).
I don't know why but I've always got it in my head that I've been to Girvan before and yet everytime I drive through the place I remember that the place I'm thinking off is Largs. I'm sure I've been there as a kid but for the life of me I can't remember when. It was at this point that Vonnie suggested driving to Stranraer. Now this isn't really that long a drive from Girvan except we took a wrong turning and ended up on the road to Newton Stewart. It was a nice we drive down that way but I missed the coastal road to be honest. We stopped off at Galloway Forest Park(5)to stretch our legs and ended up wandering around one of their forest walks. One and a half miles and Nairn made it round almost all of it by himself.
Nairn wandering around the forest trail

Erica keeping an eye on Nairn

Finally made it to Stranraer(6) and I honestly wonder why we bothered. I don't think I've ever been to a place so depressing in my life. Even Methil wasn't as bad as this. Add to the mix that the road signs in the town are abysmal which meant we ended up taking about 10 wrong turnings as we tried to get out of town and you can understand why I've considering petitioning the Ordanance Survey folk to miss it out the next time they update the maps of that area.
On the way home Nairn got really grumpy and discovered his seatbelt wasn't quite as tight as it should probably have been and tried to squeeze himself out of it. The next layby that came up Vonnie pulled over so that I could fix the seatbelt but it was off the main road and actually a picnic spot right on the beach just outside Lendalfoot(7).There were a couple of caravans and tents pitched up and it looked like quite a cool wee place to stay for the night. We ended up spending 15 minutes wandering up and down the beach while Nairn played with the sand.
Nairn playing while Vonnie goes shell hunting

The view from the beach looking north

The route

We almost done the same thing yesterday as well but the sky opened up just as we were about to get our gear together and leave. Just as well though as I'd done in my back building up the trampoline that morning and by mid-after it was seizing up. If we'd went driving anywhere outside of EK I think I'd have gave up the ghost.